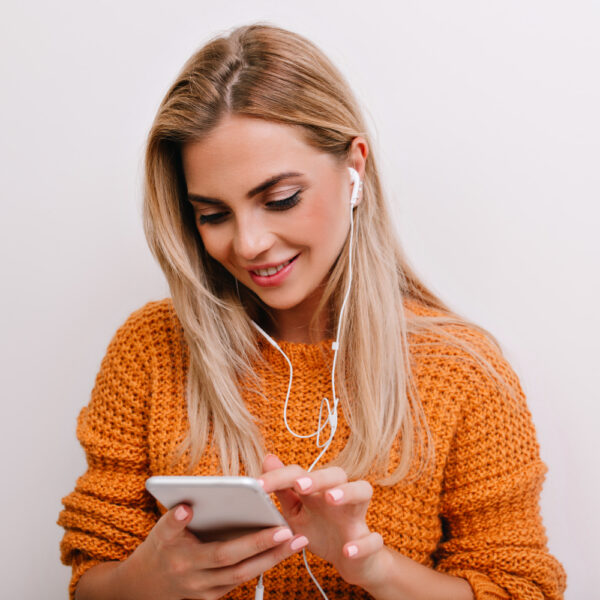 5 podcasts that will help improve your Spanish
It is well known that practice makes perfect. This can be applied to almost any activity in which we want to become experts, even more so when it comes to languages. 
Training your ear in a new language you want to learn is as important as speaking and writing in it. Improving your listening comprehension can increase your level in all other areas.  
The resources to achieve this are almost endless but, there is one that will help you the most, as it can be easily integrated into your daily routine; podcasts. 
If this tool is not familiar to you, don't worry! Today at Spanish Express, we will tell you a little about podcasts and recommend the most educational ones to improve your learning. 
Choose the one that best suits your tastes and sharpen your ear in the Spanish language. 
Benefits of listening to podcasts in Spanish 
Podcasts are a series of audios or videos recorded by one or more people, in which one or more specific topics are discussed in depth. The interaction within this format is dynamic, and the topics vary from educational, comedy, health, among others. 
This is how podcasts dedicated to lending a hand to Spanish language learners have emerged. Because the more in contact you are with the language, the faster and easier it will be to learn it.  
Spanish Express has taken the time to select the best Spanish podcasts that teach and help you practice your listening skills.  
Here we leave them for you to give them a try and introduce them as part of your learning path. 
List of must-have podcasts to add to your playlist 
If you are a beginner in the Spanish language, this will be the perfect podcast for you. 
Sara, who is the face of Spanish Answers, speaks in Spanish and English while sharing cultural and historical topics.  
Her main goal is to help more inexperienced students understand Spanish from the English language. The rhythm she uses when speaking and the clarity with which she pronounces the words make her the right choice for people with basic levels of Spanish. 
For those who are interested in learning more Latin American Spanish, Latin ELE Podcast will fit you like a glove. 
Here you can get all the information about the variations of Spanish within Latin America, its different characteristics, words, accents, and even cultural aspects of each country. 
This podcast is hosted by Marco, from Chile, and Jessi, from Colombia. Both are in charge of making the program interesting with each topic they bring to the table, and their way of speaking makes this podcast suitable for intermediate-level students. 
Taking advantage of the incredible resource that podcasts are, Real Spanish combines its Spanish courses with this format.  
This podcast course immerses you in lessons on grammar, vocabulary, and everyday expressions, alongside other aspects such as cultural context.  
Five lessons of 1 to 2 hours will help you improve and learn dynamically, whatever time or place you decide because one of the best advantages of podcasts is that they come with you wherever you go. 
Through the discussion of stories and articles, Real Spanish teaches about Spain and its culture, as well as Spanish literature.  
This is an efficient combination that will increase your knowledge of the language and put your listening skills into practice.  
This is one of the podcasts with the most varied topics you will find. 
Among the titles you can see on their website feature stories about the most important people in the world, travels through Spanish cities, some of the most common expressions in Spain, and retellings of real-life experiences.  
The sections are divided between Daily Podcast, where they touch on random topics, and Grammar Podcast, in which they focus on explaining the Spanish language.  
You can also have access to a Premium Podcast section if you pay a subscription. 
This option works for any level of Spanish but is not highly recommended for A1 levels. 
For you to practice your Spanish, it is not necessary to strictly adhere to grammar podcasts. It is also recommended that you give other programs on different topics a chance. 
For this reason, we cannot fail to recommend Entiende tu mente, a podcast that talks about psychology and emotional intelligence.  
Its members have excellent diction and full conversations with different speakers. 
This will be your opportunity to add new words to your vocabulary and accustom your ear to fluent speech in the Spanish language.
You can apply this to any other Spanish podcast that catches your attention. Test your knowledge and be patient, eventually, you will hear the conversations as if they were in your native language. 
Learn Spanish with Spanish Express! 
To complement your learning, do not miss out on the Spanish courses that Spanish Express can offer you.  
Take advantage of the summer and immerse yourself in a unique adventure to Barcelona or Mallorca with the Spanish Homestay Immersion program. Learn Spanish at your teacher's home whilst enjoying an unforgettable vacation! 
Spanish Express also provides a wide variety of online Spanish courses to suit your needs and availability. 
Leave your learning in our hands, Spanish Express teachers are waiting to impart their knowledge and help you in your goal of learning Spanish.  
Ginnette Di Damaso
Blogger of Spanish Express