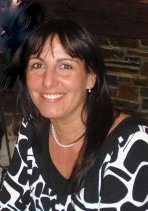 Mónica Romero Camps, Teacher and Translator
Professional Spanish Tutor and a Certified Translator English/ Spanish with many years of experience in teaching business professionals and private individuals on all aspects of Spanish, including seminars in the all important field of cultural awareness.
Mónica is skilled at working in three languages (Spanish, Catalan & English). Her linguistic abilities also lend themselves perfectly to facilitating effective communication with consideration for the individual cultural differences. Her skills include the management of multicultural teams in an office environment and extensive knowledge and experience in international business, particularly within the fields of Education and the travel & tourism. Mónica has also gained valuable experience in Interpreting and Voice-over.
Mónica has worked in managerial positions for several companies both in and in the UK before setting up her own business in 2000.
Sara Hyson, Translator & Interpreter

Sara is of British nationality, and after graduating at Portsmouth she lived and worked in Spain for 15 years. Sara is of British nationality, and after graduating at Portsmouth she lived and worked in Spain for 15 years. Whilst there she taught English and was also the official translator for the Department of Education and Science for the Autonomous Government of Andalucía. Her experience in translation spans over 20 years in the fields of education, entertainment, health and medicine, local government, law and order and many more. At present, other than working on a freelance basis for Spanish Express, Sara is a distance tutor on a Postgraduate Certificate in Translation Skills run by City University in conjunction with the Colegio de Traductores Públicos in Argentina. She also works as an interpreter, transcriber, proof-reader and teacher of A level Spanish.
Mónica Sagrera, Spanish teacher
Mónica studied Fine Arts in Barcelona, specializing in Photography, Cinema and Video. She worked in a team for two years during her studies making short films for the big screen. She also has experience in drawing and recording animations.
For the past two years Mónica has been working as a Spanish Tutor both in Spain and for the last year in the UK teaching groups and 1-1 students of all levels whilst combining this with her broad experience of working in films and the Arts.
During the last two years she has also worked in photographic laboratories in Spain and the UK in order to gain first-hand experience and insight into working practices in both countries.
Silvia Revenga, Spanish Teacher
Silvia was born in Bilbao. She holds a Labour Law degree from the University of Valladolid. She is a qualified English teacher and has several years of experience teaching the language in Spain.
Silvia first started teaching Spanish as a foreign language in 1999, while living in Marbella. She has since obtained a Certificate in Teaching Spanish to Adults awarded by the Cervantes Institute.
Silvia has taught Spanish as a second language for the Spanish Red Cross working volunteerly on their educational programmes for the integration of migrants.
Norma Ortiz, Spanish Teacher
Norma was born in San Luis Potosí, México. Norma graduated from the University Valle de México in 2003. Thereafter she took a one year postgraduate course in Hotel Management at Les Roches in Marbella, Spain. In 2006 Norma travelled to London to study English before returning to México in 2007.
She completed the Teacher Training course with International House in México City. Norma teaches one to one and group classes to students of all different levels.
Óscar García, Spanish teacher and teacher trainer
Óscar has a degree in English Philology from the University of Sevilla. He has been living in London since 2002 working as a Spanish A level teacher and collaborating with different teaching organisations.
With more than 10 years of experience, both in teaching and coordinating as Head of Studies, he is now responsible for the practice component of the Spanish Express and Cálamo & Cran's Teacher Training Courses for ELE.