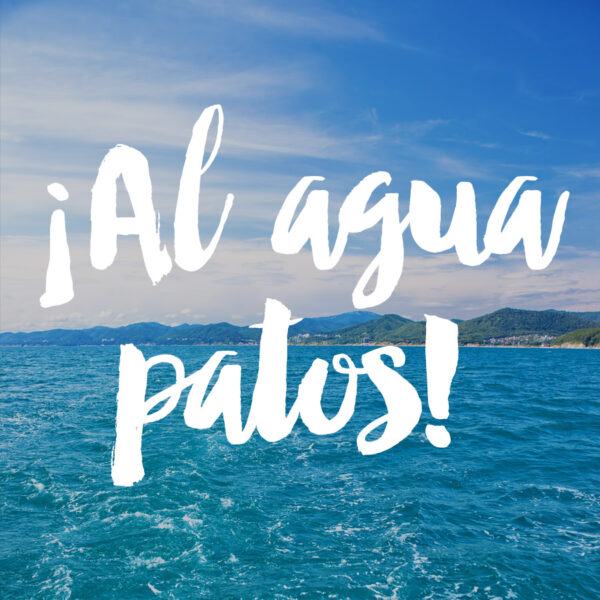 ¡Socorro! Me voy de viaje al Caribe, y ¡no sé nada de español!
Se aproximan las vacaciones. Pensaste que esta vez tus días de descanso debían tener sol, agua azul, playa, palmeras y brisa marina. Luego de revisar varias opciones, te decidiste por un viaje al Caribe.
Ya tienes tus tiquetes comprados, reserva de hotel y algunas excursiones en tu agenda. Hay un pequeño detalle que no has contemplado aún. No hablas español.
¿No crees que saber algunas palabras y expresiones básicas podrían hacer una gran diferencia en la experiencia de tu viaje al Caribe?
El español tiene una ventaja, y es que la mayoría de palabras se pronuncian tal y como se ven escritas. Eso facilitará tu intento. Además, recuerda que siempre encontrarás gente amable que tendrá mucha paciencia y sabrá comprender que no dominas el idioma.
Incluso, si las personas del lugar ven que estás aprendiendo, seguro te ayudarán. Pues bien, ¡Al agua patos!
¡Al agua patos!
Empecemos. ¿Qué significa "al agua patos"? Esta es una expresión coloquial usada para incitar a realizar una acción determinada, generalmente desconocida y muy importante de tener en cuenta durante tu viaje al Caribe.
Se cree que la expresión tiene que ver con la costumbre de los patos, más precisamente de los pequeños, quienes se ven obligados a introducirse al agua, a pesar de no hacerlo muy bien, cuando la madre lo hace, con el fin de no separarse del grupo familiar.
Aquí te compartimos una breve lista para empezar, pero seguro podrás ir creando la tuya propia una vez emprendas la aventura de tu viaje al Caribe.
Saludos
Hello – Hola
Good morning – Buenos días
Good afternoon – Buenas tardes
Good evening – Buenas noches
How are you? – ¿Cómo está?
Fine, thank you – Bien, gracias
Nice to meet you – Mucho gusto
Varios usos
Thank you – Gracias
You´re welcome – De nada
Please – Por favor
Sorry – Perdón
Excuse me – Disculpe
Excuse me, can you repeat that? – Disculpe, ¿Puede repetirlo?
Excuse me, can you say it slower? – Disculpe, ¿Lo puede decir más lento?
Can you help me? – ¿Puede ayudarme?
I understand – Yo entiendo
I don´t understand – Yo no entiendo
I need – Yo necesito
I am looking for (a hotel, a bank, a shop…) – Yo busco un…(hotel, un banco, una tienda…)
How much does it cost? – ¿Cuánto cuesta?
What time is it? – ¿Qué hora es?
I like it – Me gusta
I am happy – Estoy feliz
Ubicación
Street – Calle
Where is …?. – ¿Dónde está…?
I'am lost – Estoy perdido
How can I get to the main street/the station/the hotel?… – ¿Cómo puedo llegar a la calle principal? / a la estación?/al hotel?
Right – A la derecha
Left – A la izquierda
Straight ahead – Recto
Where is the bathroom? –¿Dónde está el baño?
Restaurante y comidas
A table – Una mesa
The menu – El menú
A drink – Una bebida
Dessert – Postre
Water – Agua
Coffee – Café
Wine – Vino
Red wine – Vino tinto
White wine – Vino blanco
Beer – Cerveza
Can I take your order? (waiter) – ¿Puedo tomar su pedido?
I'll have/ I would like/ I want…  the grilled chicken – Voy/ Quisiera/ Quiero… el pollo a la parrilla
¿Can you bring the check please? – ¿Puede traer la cuenta, por favor?
(Calling a waiter) – ¡Señor!
(Calling a waitress) – ¡Señorita!
Vacaciones/Caribe
Sun cream – Protector solar
Cap – Gorra
Hat – Sombrero
Under the sun – Bajo el sol
Sundeck – Terraza
Swimming pool – Piscina
Beach – Playa
Sand – Arena
It´s hot – Hace calor
Shade – Sombra
Parasol – Sombrilla
I am thirsty – Tengo sed
Towel – Toalla
Sandals – Sandalias
Bathing suit – Vestido de baño
Scuba dive – Bucear
Swim – Nadar
Si este primer paso te gustó…
Esperamos que esta lista de frases imprescindibles te ayude a sentirte más seguro al expresarte y a disfrutar mejor tu viaje al Caribe. Seguro tendrás oportunidad de practicar este vocabulario en distintas ocasiones, y harás algunos amigos nuevos gracias a estos recursos básicos.
Si sientes que esta primera aproximación al español, y la experiencia de conocer un poco más de la cultura hispánica te llaman la atención, anímate a aprender el idioma.
Escríbenos a information@spanishexpress.co.uk y te brindaremos mayor información sobre nuestros programas de inmersión en España y en Latinoamérica. ¡Ven al Caribe con nosotros!
Visita nuestra web para saber más sobre nuestro programa de inmersión total "Vive y estudia en casa de tu profesor".
Marcela Castellanos
Bloguera de Spanish Express
Haz clic aquí para leer más artículos de nuestro blog.