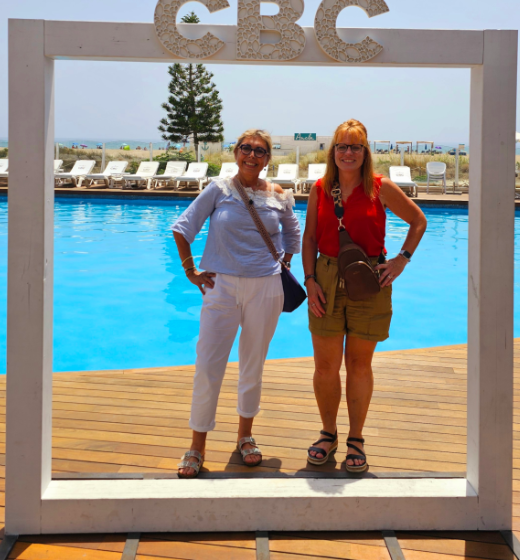 Can You Learn Spanish if You Are Over 40? Let's Trace Heather's Footsteps
Can you learn Spanish if you are over 40? Absolutely yes!!
Throughout my journey with Spanish Express, I got this question a lot. People are concerned about whether they can learn a new language after they enter older adulthood or not. Especially the age of 40 and over is considered taboo for learning new words, new skills, or a second language.
We at Spanish Express have broken down many such taboos and proved that age is just a number. All you need is the passion in your heart. We keep sharing stories of our students with you in our diary blogs on a weekly basis so you can get some real insights into the language learning journey of our students.

This time, we are here with Heather's story. You will read from three of our teachers on Heather's journey at the Spanish homestay immersion programme (SHIP) at Spanish Express.
Learning a New Language to Keep the Mind Young: The Quest to Stay Sharp
Learning a new language, like Spanish or French, is a powerful tool to keep your brain active and youthful. Research suggests that the learning process involved in this new study of acquiring a new vocabulary and grammar rules stimulates the brain, keeping the mind sharp.
Engaging in this intellectual exercise can be especially beneficial for older learners, as it helps maintain cognitive flexibility. Whether it's through online courses or interacting with native speakers, every new word learned and every sentence formed contributes to mental agility.

This journey of learning a language is not just about adding a skill; it's about embarking on an adventure that revitalizes the mind.
You Can Achieve Fluency at Any Age
Contrary to the belief that there's a critical period for language learning, you can achieve fluency in a foreign language at any age. Adult language learners will often fear they might be too old to learn a new language effectively.
However, while children may have an advantage in pronunciation and accent, adults possess sophisticated learning strategies and a deeper understanding of their language, which can aid in the learning process.
The key to success is to remain persistent, use a variety of learning resources, and embrace the challenge. Remember, fluency is not just about speaking without mistakes; it's about communicating effectively and confidently.
Tips for Foreign Language Learning as an Older Adult
Allocate Regular Practice: Dedicate time for consistent language practice, keeping your brain active and engaged.
Explore Diverse Learning Methods: Combine traditional methods like language courses at a university with modern approaches such as online courses and language apps.
Engage in Conversations: Regularly talk with native speakers to practice pronunciation and learn new words, enhancing your ability to communicate.
Expand Your Vocabulary: Focus your effort on acquiring new vocabulary that's relevant to your life, incorporating new words and phrases regularly.
Learn from Mistakes: Accept that mistakes are part of the learning process. Research suggests that both child and adult learners can efficiently learn a second language by learning from errors.
Practical Language Use: Prioritize practical usage over grammatical perfection, aiming for fluency and the ability to express ideas clearly.
Stay Mentally Active: Keep your mind active with language learning, research shows it can be beneficial for cognitive health.
Learning as a Social Activity: Use language learning to connect with others who learn a language with, either through online communities or local groups. This can help with speaking and listening skills.
Be Patient with Pronunciation: Work on pronunciation, but understand that having an accent is normal and can even add character to your speech.
Set Achievable Goals: Focus on realistic goals, whether it's learning a whole word, set number of new words each week or achieving a conversational level in a certain timeframe.
SHIP EXPERIENCE FOR HEATHER
Destination: Barcelona city, Dosrius in El Maresme and Castelldefels (Barcelona, Spain)
Teacher: Ana, Mónica and Nanda
Student: Heather
Nationality: United States
Age: +40
Month: July
Objective:
Hailing from the United States, Heather, a woman in her 40s, harboured a lifelong aspiration to journey to Spain and master the Spanish language. Seeking a transformative experience and a personal adventure, she took a bold step to travel alone for three weeks, a journey she envisioned as a gift to herself.
Heather's desire to learn Spanish had been a cherished dream since childhood, and this voyage marked the realisation of that enduring aspiration. Opting for a unique approach, she chose to live and study in the homes of her three teachers, recognizing it as an extraordinary means to fully immerse herself in the rich tapestry of Spanish culture, language, history, gastronomy, and art.
Throughout her three-week escapade, she traversed three distinct locations in the province of Barcelona, each week presenting a new chapter in her pursuit of linguistic and cultural enlightenment through learning foreign languages.
Beyond Words: Heather's Three-Week Spanish Sojourn Unveiling Cultural Tapestry
In the heart of Heather's long-held dream to master the Spanish language lay an adventure that would take her from the United States to the sun-kissed landscapes of Spain. A woman in her 40s with a passion for cultural and self exploration, Heather's dream to learn a new language finally came to fruition.
This happened as she started a three-week journey, booking a unique experience that combined language learning with living in the homes of her three host- teachers. This article unveils Heather's transformative odyssey through three diverse locations in the province of Barcelona.
Week 1: Ana's Urban Haven in Barcelona City
Poblenou: Unveiling the Charm with Heather
As Heather's first host teacher, I was thrilled to introduce her to Poblenou. Our strolls through this neighbourhood blended language practice and cultural exploration.

We chatted with local shopkeepers and artists, and I saw Heather's confidence in her ability to learn more Spanish grow with each interaction.
Poblenou, with its unique blend of the old and the new, was more than just a setting; it was a living language lesson, offering Heather insights into both traditional and contemporary Barcelona.
22@ District: The Heartbeat of Modern Barcelona
Exploring the 22@ District with Heather was like stepping into a different world. Once an industrial area, it has transformed into a buzzing hub of technology and innovation. As we walked through its streets, Heather was fascinated by the sleek modern buildings that stood in stark contrast to the older parts of Barcelona we had explored.
I explained how this district symbolizes the city's forward-thinking spirit and is a testament to its economic and technological growth. We mingled with local entrepreneurs and tech professionals, and I encouraged Heather to engage in conversations with most people. This was a practical way for her to learn industry-specific Spanish vocabulary.
The 22@ District was not just a language lesson but also an adventure within the contemporary cultural and economic landscape of Barcelona, showcasing the city's ability to reinvent itself while respecting its rich history.

Basílica de Santa María del Mar: A Step Back in Time
Our visit to the Basílica de Santa María del Mar was more than a historical tour; it was an immersive lesson in the religious and cultural history of Spain.
As we walked through the awe-inspiring aisles, I narrated stories of the past, helping Heather absorb the historical context and its influence on the Spanish language. This majestic basilica served as a beautiful backdrop for Heather to both learn a language and appreciate the historical nuances of the language.

Parque de la Ciudadela: Conversations Amidst Nature
In the Parque de la Ciudadela, Heather's Spanish took on a more spontaneous and interactive form. Here, amidst the greenery and relaxed atmosphere, she conversed with locals, each dialogue enhancing her linguistic agility.

The park, with its mix of tranquility and everyday bustle, provided a perfect setting for Heather to focus, practice, and improve her conversational Spanish in a natural context.
Estación de Francia: A Bustling Hub of Learning a new language
At Estación de Francia, Heather's listening and reading comprehension skills were put to the test. The station's lively atmosphere, combined with its architectural beauty, made for an intriguing classroom for learners.

As trains came and went, we practiced understanding announcements and deciphering signage in other languages, turning each element into a practical language-learning exercise.
Next, you will explore her continued language journey with Mónica in the serene landscapes of Dosrius.
Week 2: Mónica's Tranquil Retreat in Dosrius, El Maresme

The transition from Ana to Mónica: A Meeting at Westfield Glòries
The handover from Ana to me, Mónica, took place at Westfield Glòries, a vibrant shopping centre in Barcelona. It was here that I first met Heather, accompanied by Ana. We indulged in a bit of 'therapy shopping', allowing Heather to experience the bustling commercial side of Barcelona.
The conversations flowed effortlessly as we moved from shop to shop, providing Heather with an opportunity to practice her Spanish in a lively, everyday context.

Poblenou to Dosrius: Embracing the Countryside
After our shopping and tapas in Poblenou, we journeyed to Dosrius, marking a significant shift from the urban rhythm of Barcelona to the tranquil pace of the countryside. For Heather, this transition was not just a change of location but also a new chapter in her linguistic and cultural immersion.
The serene landscapes and slower pace of life in Dosrius offered a different setting for Heather to continue her Spanish second language and learning.

Discovering Dosrius: A Serene Learning Environment
In Dosrius, my quaint small town, Heather found herself surrounded by the natural beauty of El Maresme. Our walks through the town and its surroundings were filled with conversations about local history, traditions, and daily life.
This environment allowed Heather to absorb the language in a more relaxed setting, enhancing her understanding of Spanish in the context of rural Catalonia.

Visits to Local Towns: Argentona, Breda, and Mataró
Our excursions to nearby towns such as Argentona, known for its pottery, and Breda, known for the Museu del Càntir (jug museum), unique in the world in its specialty. We can also enjoy its rich historical architecture, provided Heather with insights into the diverse cultural fabric of the region. In Mataró, the visit to Nau Gaudí offered a glimpse into the artistic heritage of Modernism in Catalonia.
Each of these trips was an opportunity for Heather to engage with and speak the language in varied contexts, from conversing

with local artisans to exploring historical sites.
Culminating the Week: Farewell Lunch with My Parents
As our week together neared its end, I invited Heather to speak to a farewell lunch with my parents. This intimate setting was a celebration of the progress she had made in her language skills.

Surrounded by native speakers in a familial atmosphere, Heather practised her conversational Spanish, sharing stories of friends and experiences from her journey. It was a fitting culmination of her week in Dosrius, filled with warmth, learning, and cultural immersion.
Next, you will read from Nanda, another host-teacher at Spanish Express. She is a very good cook and even published a book.

Week 3: Nanda's Coastal Charm in Castelldefels
Meeting at a Chiringuito: Heather's Arrival in Castelldefels
The first time I met Heather, she was with Mónica at a chiringuito on the beach in Castelldefels. A chiringuito is a small, often seasonal establishment, typically located on the beach, serving drinks and tapas. It's a quintessential part of Spanish beach culture, embodying a relaxed and sociable lifestyle.
As we sat by the sea, enjoying the fresh air and the sound of waves, we chatted about Heather's experiences so far. This informal setting was perfect for easing Heather into the coastal way of life in Castelldefels.

Discovering Castelldefels: A Blend of Nature and Culture
In Castelldefels, Heather was immediately struck by the town's stunning natural beauty, nestled between the Llobregat delta and the limestone massif of Garraf. Our walks along the beach were not just strolls.
They were interactive Spanish lessons where we discussed everything from local history to environmental conservation. Castelldefels, with its expansive beach and proximity to both Barcelona and natural parks, provided a rich setting for learning.

Exploring Gastronomy: Cooking with Nanda
As a passionate cook who has even published a recipe book, I was excited to share this aspect of Spanish culture with Heather. Together, we explored local markets to select fresh ingredients, and I taught her culinary terms in Spanish.
Our cooking sessions became practical language lessons, as Heather learned to follow recipes in Spanish and discovered the many languages and stories behind traditional dishes.

The Charm of Garraf Town
A visit to the nearby Garraf town was a journey into a quieter, more traditional side of Catalan life. Here, Heather experienced the contrast between the bustling energy of Barcelona and the tranquillity of smaller coastal towns.
Our conversations in Garraf expanded her own knowledge and vocabulary, especially in terms of understanding the nuances of Catalan, grammar, and expressions.

A Spiritual Retreat to Montserrat
Our trip to Montserrat was both a cultural and spiritual experience. The mountain, with its famed monastery and breathtaking views, offered a serene backdrop for contemplation and conversation.
We discussed the religious and historical significance of this site as adults, and Heather practised her language skills by reading informational placards and engaging with locals and other visitors.

Embrace Your Spanish Adventure: Live, Learn, and Love Spain with Us! 🇪🇸✨
Dive into a unique language adventure with Spanish Express! 🌟
Join our Spanish Homestay Immersion Programme (SHIP), where learning goes beyond books. Live with host teachers, explore vibrant cities, and indulge in authentic cuisine, just like Heather did. 🏡🍽️
Experience Spain's culture and beauty firsthand for one unforgettable week. Ready to start your own immersive journey? 🚶‍♀️🇪🇸
Enroll now and create memories that will last a lifetime! #LearnSpanishLiveSpain