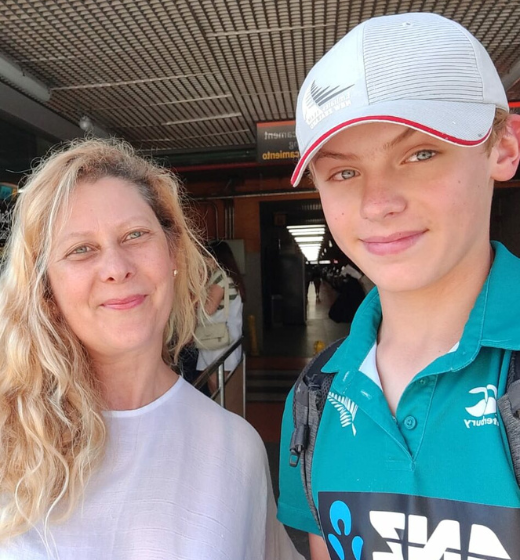 Language Homestay Immersion Programme for Spanish IGCSE
Learning Spanish sounds exciting, but when the IGCSE exam looms on the horizon, it might become a challenge. What if I tell you how to combine both in a seamless experience? Enter Spanish Express, where we offer a unique Homestay Immersion Programme for IGCSE exam while living in your teacher's home and enjoying the vibrant Spanish culture.
Imagine taking your Cambridge IGCSE exam preparation beyond the boundaries of traditional secondary education. We will let you meet Gideon, a 14-year-old who participated in our immersion program in Valencia, Spain. While polishing his language skills for the Cambridge exam board's IGCSE examinations, he indulged in local cuisine, water sports, and cultural visits.
So why read this blog? Well, you'll get an authentic account of a student's experience from Gideon's teacher, Pilar, but we will also dive into the nitty-gritty details of the IGCSE subjects and exam boards.
What Is IGCSE?

IGCSE is an international certificate many students aim for during their secondary education years. It's popular in international schools and serves as a solid base for learners interested in academic pursuits beyond their home country.

This qualification is governed by respected bodies like Cambridge Assessment International Education.
How IGCSE is different from the GCSE?
The IGCSE and GCSE might seem similar, but they have key differences. The most noticeable one is the international angle.
| Criteria | IGCSE | GCSE |
| --- | --- | --- |
| Geographical Focus | International | UK-based |
| Curriculum | Broad, with an international focus | UK-focused, aligned with National Curriculum |
| Grading System | A* to U | 9 to 1, or A* to G (older system) |
| Coursework | Varies by subject, optional in many | Part of most courses |
| Exam Board | Various, including Cambridge, Edexcel | Various, including AQA, Edexcel, OCR |
| Recognition | Globally recognized | Recognized mainly in the UK |
| Assessment Method | Exam-based with optional coursework | A mix of coursework and exams |
| Subject Choices | Wide range, more tailored to the global context | Wide range, aligned with UK standards |
| Flexibility | More flexible scheduling and topics | Less flexibility in scheduling |
| Duration | Usually two years | Usually two years |
What about IGCSE Content Knowledge?
When it comes to the IGCSE, the syllabus can vary depending on the exam board. From English Literature to Physical Education and Computer Science, the choice of IGCSE subjects caters to your own interests.

Brought to you by Cambridge Assessment International Education
The depth of content knowledge you acquire is excellent preparation for further academic study, including the IB Diploma.
IGCSE Exam Boards
You'll find two main exam boards for IGCSE: Cambridge Exam Board and Pearson Edexcel. Both have distinct features that cater to different learning styles and career goals.
Cambridge IGCSE
It focuses on rigorous academic study and critical thinking skills. As an international qualification, Cambridge IGCSE opens doors to further study and careers worldwide.
It is recognised in many countries, making it an excellent preparation for university entry or employment.
Pearson Edexcel
It takes a more hands-on approach, emphasising practical skills.
Like its Cambridge counterpart, Edexcel International GCSE is also internationally recognised and accepted by institutions and employers across the globe.
Selecting an exam board comes down to a few key factors:
IGCSE Subjects
Check whether the IGCSE examinations offered cover the subjects you're interested in. Both boards might not offer the same subjects.
embed page here

Syllabus
Different boards have different subjects and courses. It's crucial to go through the curriculum to see which aligns with your goals. At Spanish Express, we offer not only Spanish but a variety of other IGCSE subjects as well.

Assessment
Both boards have unique ways of conducting assessments. Knowing the structure helps you prepare better.

Your learning style plays a significant role in this choice. Some students might find the academic rigour of Cambridge IGCSE more suitable, while others might prefer the flexibility and practical focus of Pearson Edexcel.
Why might the IGCSE be a good choice for your child?
Choosing IGCSE can be a game-changer for your child's education. Why? It's a global ticket recognised by universities and employers worldwide. The curriculum is vast, covering core subjects like Maths and English and even specialised ones like Computer Science and Business Studies.

It's not just about exams; coursework also counts, so it suits different learning styles. Plus, it gels well with both state schools and independent schools. The skills your child gains, like problem-solving and critical thinking, go beyond the classroom.
Considering further study in the UK? IGCSE provides a strong foundation. In short, if you want a flexible, world-accepted, and skill-focused education for your child, IGCSE is an excellent choice.
How the Homestay Immersion Programme for IGCSE Helped Gideon Pass
We keep sharing precious moments with students in our diary blogs so you can track their journey and understand the Home Stay Immersion Programme better. Here is another leaf from Pilar's diary.
Valencia, Spain: Gideon's Family Adventure

Student: 14 years old Gideon from England
Teacher/Narrator: Pilar residing in Valencia, Spain
It's so nice to have another chance to share my memories of my beloved student with you. I hope you have been doing as well as I am in Valencia. Living with my students and being able to experience this thrilling journey is a joy that keeps me going.
Another thing that I enjoy is writing my diary. Today, I will introduce you to Gideon. He is a 14-year-old Spanish student with a keen interest in Hispanic culture.

Despite his young age, this did not stop him from embarking on the adventure of travelling alone from England to Valencia, Spain, with his parents' permission.
I admire the courage of this teenager whose goal with our immersion programme in Valencia was to improve his Spanish and get to know Spanish culture.
And believe me… he did!
SHIP begins
Gideon arrived in Valencia, Spain, on a Saturday in July, one of the hottest months in the country but the perfect one to enjoy summer to the fullest.
His introverted nature and shyness prevented him from communicating initially, but this only lasted a day. Within hours of his arrival, Gideon began to feel at home.
Spanish food brings people together
My family started to give him confidence and attention to make our students feel comfortable and communicative.
On the programme's second day, we had a welcome lunch with other Spanish teenagers.

We ate seafood paella, a dish from our Spanish culture par excellence, which Gideon enjoyed like never before. The new flavours and learning new gastronomic vocabulary was his favourite part.
Gideon was able to enjoy, day by day, the gastronomic culture of the place with various typical dishes such as tapas, paella, and other stews.
A delightful experience!
During the SHIP
We started our Spanish classes on a Monday morning, enjoying the beautiful weather outdoors.

Gideon is a brilliant, attentive, and responsible student.
I noticed that his Spanish foundation needed some improvement, so we worked on the present, past, and future tenses during all the morning classes and then used them in all our subsequent conversations.
Discovering Gideon's Hobbies
Taking advantage of Gideon's love of water sports, we didn't hesitate to book a paddle surf at Puebla de Farnals beach to practice this sport.
Practising our students' hobbies or interests during the programme works as a way to make them more fluent in Spanish.
This is because they have direct contact with native speakers during activities, and, best of all, they create new friendships!

We enjoyed a great day at the beach, swimming and eating by the sea.
Max, my son, and Gideon shared fond memories.
It was a fascinating day! 
I knew that my student also loved sailing, so, with the whole family, we enjoyed a great day out on a catamaran sailing from the seaport of Valencia, Spain.

Finalising the SHIP
Our itinerary could not miss the art and history of the beautiful city of Valencia, Spain.
We visited the old part of the city with its classic buildings, such as the cathedral, the Miguelete Tower, the Roman wall, the Lonja, and the Serrano towers, among other important monuments of the region.

Also, the most modern part of Valencia is considered the City of Arts and Sciences, with its buildings transporting you to a futuristic and magical place.
For Gideon, it was an unforgettable experience to see all these monuments so valuable in the city's history. In addition, it made him feel closer to Spanish culture and more excited to learn the country's language.

To conclude Gideon's visit to Valencia, we checked out everything he had learned during his stay and without a doubt, he had achieved his goal!
Gideon now feels much more confident speaking Spanish; he can hold a conversation, and, best of all, he takes countless experiences to share when he returns home.
Now, he can not only communicate in Spanish but also prepare a delicious Valencian paella for all his loved ones.
I can't wait to welcome more students like Gideon and show them the wonders of this city as together we discover more about the Spanish language.
Visit Valencia, Spain, with Spanish Express SHIP! 
Don't wait any longer to be part of this experience; you could be the protagonist of our next diary. 💃
We not only have Valencia available, but you can also visit us in Barcelona, Girona, Mallorca, Madrid, and Burgos. You choose the destination, and we do the rest. 🙌
Learn Spanish while you visit unique places in Spain 😍.
Embark now on our SHIP. We are waiting for you! 🚢
Written by Pilar, Spanish Homestay Immersion Programme (SHIP) Coordinator and Spanish Express host teacher.
Teacher/Narrator: Pilar residing in Valencia, Spain
FAQs
How to calculate IGCSE marks
IGCSE marks are usually calculated by combining coursework and exam grades. The final grade is often represented as a letter, ranging from A* to U.
How to choose your IGCSE subjects
Consider your academic strengths and career goals. Consult with teachers or counsellors to align subject choices with future university or career plans.
How do I check IGCSE results online?
Results are often accessible through a secure portal provided by the exam board. You'll typically need a username and password to log in and check your grades.
Do UK universities accept GCSE and IGCSE?
Yes, most UK universities accept both GCSE and IGCSE qualifications, though entry requirements may vary depending on the course and institution.