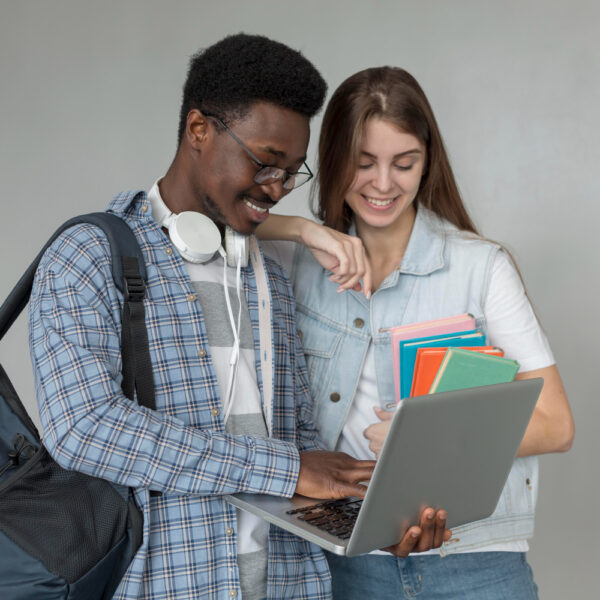 Official Spanish Exams: SIELE, DELE, A LEVEL, I/GCSE
Do you want to take the British exams? 🤔 Or are you in search of an official Spanish diploma? 👀 
No matter which official Spanish exams you want to take, or which one you need to study for, at Spanish Express we will give you a hand with your preparation.  
You are in luck, because Spanish Express is proud to be a SIELE accredited exam centre 📚 and we offer preparation courses for all exams.  
Want to know more about our programs? Keep reading, here we tell you all about it! 🙌
Spanish Express and David Game College
Spanish Express is part of the David Game College Group, an approved examination centre recognized by the leading examining organizations for GCSE, IGCSE and A-Levels (Edexcel and AQA) since 1974.
We are based at the David Game College premises in London and from there, our students can study with our teachers, most of whom are also examiners, and take the official Spanish exams: SIELE and DELE.
However, despite having this physical space, our programs are now fully online. Students have the option to prepare for the evaluation with Spanish Express, and take the exam online: from the comfort of their homes and with flexible schedules, from anywhere in the world.
Official Spanish Exams
Of course, preparation for the official Spanish exams are our flagship programs.
SIELE is the International Service for the Evaluation of the Spanish Language that certifies electronically the command of this language for students and professionals.
It is promoted by the Cervantes Institute, the Autonomous University of Mexico, the University of Salamanca and the University of Buenos Aires.  
These institutions guarantee the quality standards and good practices in the elaboration of the tests and the use of the different linguistic varieties of the Hispanic world.
Another important factor of SIELE is that you can choose to take the four tests at the same time in SIELE Global, or take them in independent modules.
This is special to SIELE, and is not offered by other diplomas such as DELE. There are five different independent modules to choose from, and you can take as many as you want.

Within a maximum of three weeks, students will receive an e-mail notification with their results. They will then be able to access www.siele.org to see their results and download a certificate or report, depending on the modality chosen.
If you would like to register for the SIELE exam, please send an email to monicaromero@spanishexpress.co.uk, with the day and time you would like to take the exam, and we will do our best to open a special exam session for you.
On the other hand, the Diploma de Español como Lengua Extranjera (DELE) is another exam that officially accredits a person's level of Spanish.
This test is administered by the Instituto Cervantes and, once passed, is valid indefinitely.  
The DELE has international recognition and is the ideal tool to expand your work and academic reach to other countries.
Within three months, students will receive an e-mail notification with their results.
To register, you can do so through the Instituto Cervantes London online store (CLIC London): https://cliclondres.cervantes.es/en/convocatorias 
Both SIELE and DELE are comprehensive diplomas that will help you officially certify your Spanish proficiency worldwide. Both exams certify the degree of proficiency in the Spanish language with four tests that assess the four basic elements of any language:
✅ Listening comprehension  
✅ Reading comprehension
✅Written expression and interaction.
✅ Oral expression and interaction
The Spanish education system 
As we mentioned before, at Spanish Express you will be able to prepare for the British education system exams.  
These state tests are required of all British students. The GCSE and IGCSE are taken to assess aptitudes at the end of secondary school, while at the end of high school students must proceed to take the A-Level.  
Both are essential processes within the British education system and, for this reason, all students seek to be as well prepared as possible.  
So if you want to get a boost to achieve the best grade, you can join our Spanish A-Level Online Programme or Spanish IGCSE Online Programme.  
A-Levels are not only relevant for university admissions, but A-Levels – and their qualification levels – are widely recognized by companies around the world.
Moreover, the IGCSE is one of the world's most popular international secondary education qualifications and is currently offered in over 900 schools in 80 countries.
Spanish Express prepares you in the best way by providing you with:  
👩 Full tutor support throughout the academic year.  
📑 Proofreading of assignments for your course.  
🔊 Oral exam practice with your native teacher-examiner.  
📄 Mock exams and feedback.  
📚 12 months of access to learning materials.  
💻 Books and practice materials.
💃 Online Spanish social events in Spanish.
We are available to resolve all your questions before you enroll, so don't hesitate to contact us to make sure this is the best option for you.  
Prepare with Spanish Express!  
Achieve the best score 😎 in your official Spanish exams or in the British tests, we are ready to give you a hand at every step.
Visit our Official Exams website 📑 and learn more about our programs.  
At Spanish Express we aim to give you all the necessary tools to achieve the best results in all your Spanish exams.  
We are waiting for you! 🕺
Ginnette Di Damaso
Spanish Express Blogger