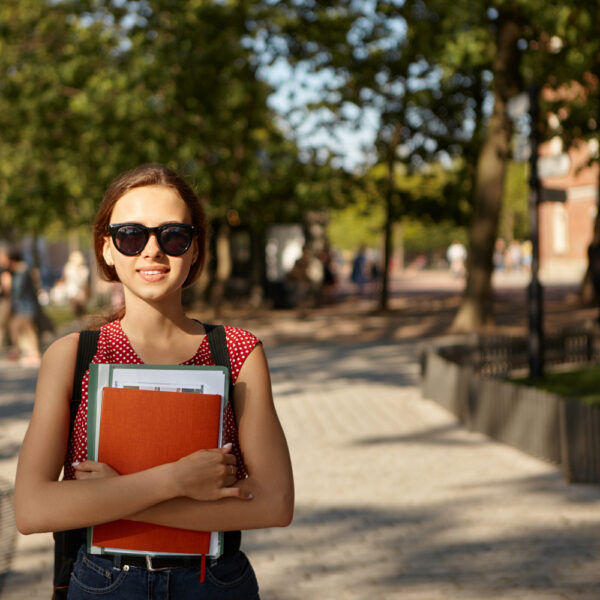 5 fun tips to learn Spanish while you are on vacation
There is no better way to learn Spanish than to visit a Spanish-speaking country. But how do you coordinate the proper study of the language and, at the same time, the trip?
Luckily for you, there are a few tips that will help you in your academic Spanish training.
Make the most of your stay in the country and put into practice these fun tips we bring to you.
Learn Spanish on your vacations
These tips will be useful for those who are learning Spanish for beginners. However, they are also a practice tool for intermediate and advanced learners.
So don't hesitate to try them out and give your learning a boost.
Write down the new words you learn
For learning Spanish or any other language, taking notes will be key in the process. Writing down new words will help us not forget their meaning, and we will be able to add them to our vocabulary.
Take a small notebook and pencil with you, keep an eye on street signs, store names, among others. Sharpen your hearing and pay attention to people's Spanish conversations.
Having your senses active while in a new country will keep you open and attentive to the knowledge it can give you about the language.
If you have already embarked on this adventure, you cannot miss the opportunity to mingle with the locals. This is not only a chance to learn about the country and its culture, but it will also be very helpful in acquiring new language skills.
The locals of a country handle more extensive terms and vocabularies since Spanish is their native language. In addition, it will encourage you to practice your speaking, since not everything can be left to theory.
It will be like having Spanish lessons in Spain, but with a more improvised plan.
We understand that new things can be a little scary, and it's normal to feel that way. But it is also important to face these obstacles, as it will be very helpful for your language development.
Fear is the worst enemy of learning Spanish. If you shy away from speaking, your learning will slow down. Besides, you will be missing out on opportunities to gain knowledge, especially when engaging with locals in the country.
Conversation improves your pronunciation and expands your vocabulary.
Take it step by step, at your own pace, but don't give in to fear.
Make mistakes and you will learn
Part of the fear of speaking Spanish stems from the worry of making mistakes, but remember that it's normal to fail, especially when you are learning something new.
Making mistakes will help you identify the flaws in your knowledge, and you will know how and what to improve, nurturing and boosting your performance in the Spanish language.
Do not expect to be a genius in your first class, this is something that not even the best Spanish course can achieve. Even having more time in the learning process will not make you a professional in the language right away.
Everyone learns at their speed, and all knowledge acquired nourishes you, even if you don't handle it like an expert.
Be patient. Time and practice will give you the result you are looking for.
Try our Spanish Homestay Immersion programme
Do you want to be guided in your Spanish learning while you travel?
Wanting to have extra help in your preparation to learn Spanish is the right way to go, and even if you are traveling you can get it.
For that, you should count on the best Spanish courses in Spain. And although there are many available, our Spanish immersion programme will best suit your needs.
In Spanish Express, we have several locations in Spain where we offer you a plan with activities that will reinforce your Spanish language training.
Our Spanish immersion programs in Spain include easy Spanish lessons for beginners. In addition, it is also open to anyone who has an intermediate or advanced level.
Live and study Spanish in your teacher's home in Spain!
Studying at your teacher's home offers you many benefits and advantages that you may not have considered.
In addition to spending time in a beautiful Spanish-speaking country with your teacher-host, you will enjoy cultural activities related to gastronomy, trips to historical sites and monuments, boat excursions, relaxation time, and, of course, a warm welcome.
Visit Mallorca or Barcelona with us! Learn this romance language while enjoying the best tourist sites Spain has to offer.
Mixing fun and knowledge will be our main goal for you to enjoy your stay.
Ready to learn Spanish?
As you can see, the tips for learning Spanish are easy to apply and, although they are simple, they will help you a lot in your preparation. Putting them into practice on your trip and even in your daily life will positively change the way you perceive your knowledge of the language.
Despite following these tips, you can also take your learning to a new level by opting for Spanish courses in Spain. You can enjoy a sunny day in a cosmopolitan Barcelona with our Spanish immersion programme or a sunset on some paradisiacal beaches in Mallorca.
The choice is yours. Spain is waiting to give you the Spanish language knowledge you are looking for. And Spanish Express will welcome you with open doors.
Don't delay any longer that goal you want, and mix the best of both worlds with us.
Ginnette Di Damaso
Blogger of Spanish Express