Learning spanish? Attitude is everything, be creative!
Learning a new language is certainly a big challenge. There is no doubt that it requires a lot of effort and dedication. But it could turn out to be very fruitful if you put a little creativity in and use innovative resources in the way you choose to study it.
The most important thing is to maintain a very good attitude during the process, to enjoy it, and to always keep in mind that you have taken a decision that will change your life.
To speak a language different from yours, will allow you to see the world in a different way and will open many doors to you at a personal and professional level. Someone who speaks a second language will always go a step forward.
Learning Spanish in a language school
Normally you will go to a language school or look for a teacher since you will certainly need a system of formal learning that teaches you proper skills and directs you towards the fulfillment of specific goals to obtain a stronger grasp of the language.
But we already know that having a routine of formal studies can become dull, that at some point you can lose motivation and, worst of all, that if you don´t take what you learn in your classes and include it into your daily life, there's a possibility you will not grasp and learn the language at all.

As the saying goes "practice makes perfect" and there is no better way of learning a language than practicing it first-hand.
If your goal is to learn a new language, there must have been a particular interest that had led you to choose this specific language.
This is where you must explore different learning methods and try to be very creative to make your learning process more effective and useful when out of class.
Do you learn Spanish because your work demands it from you?
Does your work require you to watch videos of chats, conferences, or interviews with Spanish speakers? Or perhaps you need to see the news on channels from Spain or from Latin-American countries.
To help in this try and visit bookstores where you can find books in Spanish and pick one up which interests you. Try to read books in Spanish, underline the words and expressions that are new for you, write notes on what you understand and on what you do not understand, put labels on where you must return to understand better.
You can also try to look for some magazines or websites in Spanish related to your professional area or to your business field and try to read a little every day.
Spanish music has lovely melodies and rhythm but it's very hard to understand the words for a non-Spanish speaker, try using this to learn the language!
Look for music videos with subtitles and try to follow them. Make your own song's playlist in Spanish and try to hear it often. Seek the lyrics of those that you like very much and try to go over them several times while listening.
Have you thought of registering in a salsa dancing class or Spanish flamenco dancing class?
Follow from now on some Spanish-speaking singers that you may like on their social media. Look for discotheques or places in your city where they play music in Spanish and have a look at them. Immersing yourself in Spanish culture is a great way to learn the language.
When you go to a Spanish restaurant you might spend some time reading the menu, trying to figure out the ingredients, and their meaning. What about if you dare to cook something Spanish at home?
Search websites or books about recipes of Spanish food and give a surprise to friends and family with an evening of tapas, or try your hand at making delicious paella.
Try and also find a Spanish wine that may go with the food you make. Try to talk about the ingredients you used, about its flavors, or about the way you cooked it.
Try and speak a little about the wine that you chose, for example, about the region of Spain in which it was produced.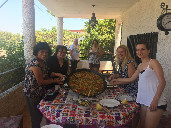 Summer is around the corner!
Your Spanish classes will have a break for a couple of months. Are you afraid to forget everything you have learned?
Why don't you plan a trip that you have always wanted to do to Spain or to another Hispanic country and take advantage of the holidays to keep on practicing while you travel?
A trip abroad always enriches you because you can immerse yourself in the culture of the place that you visit. Everything is new for you; you are ready to live through new things, experiment, and learn.
This means that it is also the perfect occasion to strengthen your communication skills in Spanish when you are totally immersed in a different countries' culture, you are ready to absorb all the information and the knowledge there that you can find.
If you look for a plan that offers you a complete and unforgettable experience to practise your Spanish while you travel, write to us at information@spanishexpress.co.uk or look for our full immersion program Live and study at your teacher's home.
Whatever is your interest to learn Spanish, look for your main motivations and find ways of getting immersed in it. Don't be content just with your classes. Take it to your everyday life. Feel it and live through it!
Marcela Castellanos
Spanish Express Blogger
Please click here to see more of our blog posts!