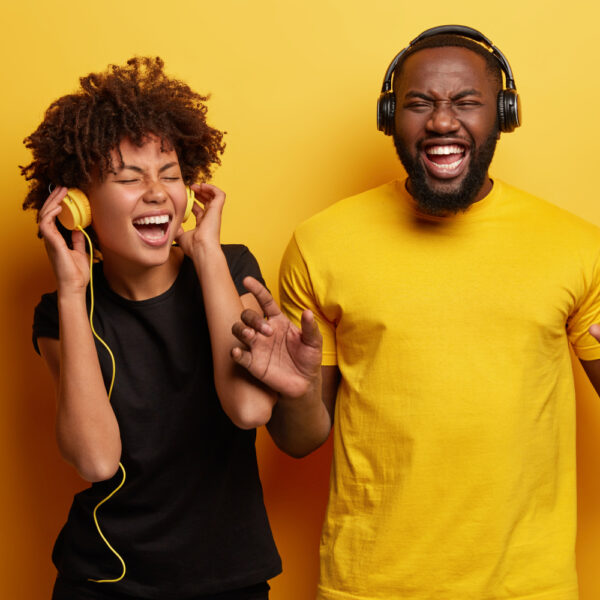 Music to learn Spanish: 6 songs to add to your playlist
Music has a lot of uses. It can be employed to set the mood for a party, celebration, birthday, event, or even to be part of a protest.  
For this reason, it has become a key element in academia. The versatility and deep connection it generates in people provokes positive responses in learning and processing information.  
As a result, using music to learn Spanish is now a new opportunity to get in contact with the language in a more fun way. 
So, if you have decided to use this tool to improve your Spanish performance, you have come to the right place.  
Today in Spanish Express, we bring you a list of songs that you should not leave out of your playlist. We will also explain how this method can be beneficial for your learning. 
Read on and find out everything you need to know about music to learn Spanish. 
How does music help you learn Spanish? 
According to a study conducted at the University of Huelva, Spain, by Professor Carmen Fonseca-Mora, music is a facilitating tool in learning a new language. 
This is because, when we are in contact with song lyrics in an unknown language, we become interested in knowing what they mean and the message they send. By translating and looking up the definition on our own, we begin to associate the words of that language with our native language. 
The benefits of listening to music to learn Spanish are also noticeable in pronunciation. As we try to sing the songs, we strive to imitate the accent we hear, fine-tuning our ears and improving our speech in the language.  
The Cervantes Institute also recognizes the great help that music provides in learning. In fact, on its website, you can find a section dedicated to cultural activities related to music for learning Spanish.  
In Spanish Express, we are also at the forefront of new study tools, and for this reason, we bring you a carefully selected list so that you can start listening to music to learn Spanish properly. 
Songs for your playlist
Enjoy this summer while listening to the best music to learn Spanish!
Ya no sé qué hacer conmigo – El Cuarteto de Nos
This song is quite funny and has several references to Latin American culture. The band is from Uruguay, and their melodies are very similar to those of alternative rock. 
Perfect for getting in touch with a different Latin American accent if you're in an advanced level of Spanish. 
Desde Cuando – Alejandro Sanz
Alejandro Sanz's songs are perhaps the best music to learn Spanish. This singer is originally from Madrid, Spain, and since 1990 he has been present in the Spanish and Latin music scene. 
"Desde Cuando" is a slow, romantic song that allows you to hear the words and intonations properly.
It is excellent if you are a beginner learning Spanish or are at an intermediate level. 
Ojalá que llueva café – Juan Luis Guerra
Singer Juan Luis Guerra is one of the most important references in Latin American music. He is originally from the Dominican Republic and has been in the music scene for more than 40 years.  
His music style is divided between merengue, bachata, and romantic ballads. Some of the songs are easy to understand if you are at an intermediate level of Spanish. 
This artist is not recommended if you are just starting to learn the language. 
Solamente tú – Pablo Alborán
The second Spanish singer we bring for you today is Pablo Alborán. One of the newest voices of the Spanish artists and who, fortunately, has an excellent selection of music to learn Spanish.  
Generally, the style of music that dominates his songs are slow romantic ballads with soft singing, alongside others that are more upbeat.
Pablo Alborán is a singer suitable for all students of Spanish, no matter what level you are at. His music can help you expand your vocabulary and train your ear. 
Of course, we couldn't leave Shakira out of this list. The Colombian singer has earned worldwide fame thanks to her talent as a songwriter and singer. 
While many of her current songs are a bit difficult to understand, several tunes from her old repertoire will make you practice your speech and hearing. 
Of all her old songs we chose "Día de enero". This romantic ballad is simple to understand if you pay proper attention. The singing is slow, and the words are pronounced with a soft tone.  
You will acquire vocabulary, references, and a good song to dedicate. 
Me olvidé de vivir – Julio Iglesias
This is surely one of the most important singers in Spain. Julio Iglesias is known worldwide and is an eminence in Hispanic music.  
If you want to learn Spanish, you should not leave this artist out of your learning process. His repertoire is one of the best choices of music to learn Spanish. 
Of all his hits, the most appropriate choice for this purpose is "Me olvidé de vivir". A beautiful pop ballad with proper Spanish intonation and a slow rhythm that is easy to pick up word by word. 
A perfect choice for beginner, intermediate and advanced learners of Spanish. 
We also recommend you to find out more about his history and other songs to soak up a little more of the Spanish culture.
There is never enough when it comes to learning Spanish, that's why we leave you here with an extra option: the playlist "Las mejores canciones para aprender español", created by Quijote&Sancho. This is a more complete playlist for you to study while you enjoy this summer.
Want a hand with your Spanish?
It's time to leave the excuses behind! Not even summer is a reason not to embark on your goal of learning Spanish. 
With Spanish Express, you have the opportunity to study while enjoying a vacation in Barcelona or Mallorca. All you have to do is join the Spanish Homestay Immersion programme they have available. 
You will study Spanish in your teacher's home! What better way to learn a language than in its native country? 
If you don't have enough time to try this program, you will always have Spanish Express online classes available. 
Learn with the most qualified teachers in the field and get the tools you need to speak Spanish like a native. Spanish Express has these and many other courses and programs available for you to learn Spanish properly. 
Complement your music playlist to learn Spanish with all the knowledge that Spanish Express can teach you. Get to know us and let's sing these songs together in Spanish! 
Ginnette Di Damaso
Blogger of Spanish Express