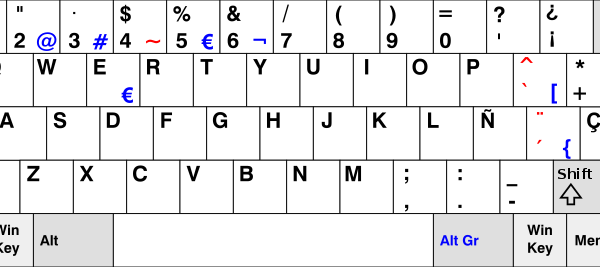 SOS… I need a Spanish keyboard! How to change your keyboard language in one minute
First, congratulations on choosing to learn Spanish!
Is this the first time that you type in a foreign language? Do you often find yourself copy-and-pasting special characters like á or ñ, for example, and wish there was an easy shortcut? Guess what, there is and we will teach you how to change to a Spanish keyboard!
This is how a Spanish keyboard looks like:

Windows 10 allows users to easily add and switch between different languages without having to buy a separate physical keyboard. Can you imagine the hassle of having to change the whole keyboard every time you want to switch between two languages or more?
Personally, I use almost daily four languages: English, Spanish, Catalan, and French.  Therefore, I can use the language bar to switch between languages that use different keyboard layouts. Easy, peasy!

To change to Spanish keyboard settings on Windows 10, follow these 7 steps:
Navigate to Windows Settings by clicking on the gear symbol on the left side of the Start Menu
Click on "Time & Language"
Click on "Region & language" in the left sidebar
Under "Languages", click "Add a language"
Find the language that you would like to add, for example, "Spanish (Spain)"
After clicking on it, you may be asked to specify a regional dialect
You will be returned to the "Region & language" page
Once you have followed these 7

steps, a new icon will appear next to the date and time on the bottom-right of your screen, on the language bar tab.
Click on this icon to open a window listing the currently added languages. From here, you can select the language to change to a Spanish keyboard.
What happens if I am working on someone else's computer and I don't want to mess with their keyboard settings?
Don't panic. I am going to explain to you how to type Spanish characters without changing to Spanish keyboard settings
There is a system called ASCII, where you can type any character you want. To type a character, press and hold the alt key while you type in the character's ASCII code on the numeric keypad of your computer.
Below I have gathered the main characters you will need if you want to type in Spanish:
| | |
| --- | --- |
| Character | Alt Code |
| á | 0225 |
| Á | 0193 |
| é | 0233 |
| É | 0201 |
| í | 0237 |
| Í | 0205 |
| ñ | 0241 |
| Ñ | 0209 |
| ó | 0243 |
| Ó | 0211 |
| ú | 0250 |
| Ú | 0218 |
| ü | 0252 |
| Ü | 0220 |
| ¿ | 0191 |
| ¡ | 0161 |
| « | 0171 |
| » | 0187 |
| — | 0151 |
I hope this is of help to you. Please choose the method that works best for you.
I hope that you enjoy typing with the Spanish keyboard!
Mónica Romero Camps
Educational Director & Spanish Express Blogger
Please click here to see more of our blog posts!