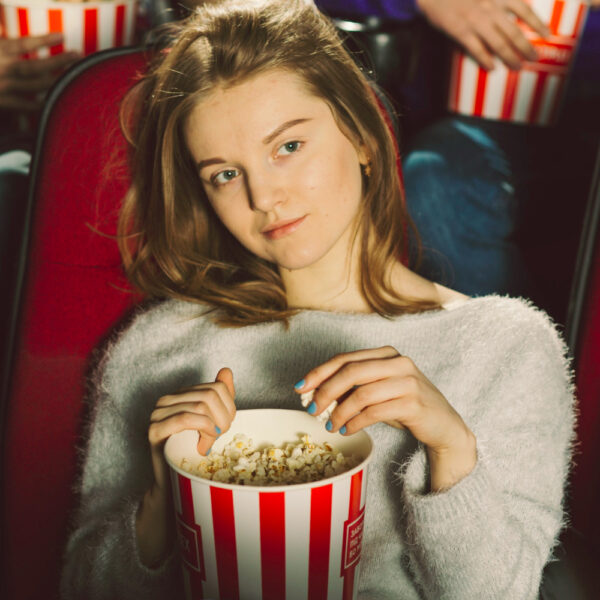 Spanish Film & Literature Workshops: También la lluvia
Looking to immerse yourself in the study of Spanish? A great way to do so is through films and literary works.
Don't be overwhelmed by the number of important Spanish language titles. Spanish Express is here to lend you a hand and bring you closer to the greatest artistic exponents. 📚🎬
With the Spanish Film & Literature Workshops you will study novels, storybooks and films with a method that will allow you to improve and perfect your Spanish. 😉
In today's case, we present to you También la lluvia. This Bolivian film received critical acclaim and is an excellent starting point for your learning. 😁
Icíar Bollaín's renowned film will grab you from the very first moment. 🙌
Let's start learning!
También la lluvia
También la lluvia is a 2010 Bolivian film directed by Spanish filmmaker Icíar Bollaín. Well-known actors Luis Tosar and Gael García Bernal are part of the cast.
The film has a metafictional component: it tells the story of two Spanish directors, Costa (Tosar) and Sebastián (García Bernal), who arrive in Cochabamba, Bolivia, to shoot a historical feature film about the struggle of the local indigenous people against the conquerors.
Although friends, the truth is that Costa and Sebastián have opposing personalities, as well as different objectives on their journey.
On the one hand, Costa is cold-minded and calculating. His only goal is to finish the film as soon as possible, without sticking to the historical facts and paying miserable salaries to locals to act in the film.
Sebastian, on the other hand, is more honest and idealistic. He seeks to capture the truth of the conquest and to vindicate with his art the struggle of the indigenous Bolivians. He has a passionate and humanistic character that contrasts with Costa's pragmatic personality.
Another relevant character in the film is Daniel (Juan Carlos Aduviri), a Bolivian with indigenous features. Thanks to his charisma and talent, Daniel gets the role of an aboriginal leader named Hatuey in the film that Costa and Sebastian are shooting.
Everything seems to be going fairly well, but the historical reality of the feature film directed by Costa and Sebastian will find a reflection in the events they themselves are about to live.
In the middle of the filming of the movie, an insurrection known as the Water War breaks out in Cochabamba. This is a series of events and protests that took place in Bolivia in 2000.
The origin of the conflict was the privatization and increase in the cost of water by a U.S. multinational company. As a result of this event, many people were unable to pay for the service, which disrupted life in different parts of the country.
Paradoxically and symbolically at the same time, Daniel became the maximum leader of the revolts. The spirit of Hatuey seems to have taken hold of this young man, who will command the local indigenous people in the vindication of their rights.
Without looking for it or foreseeing it, Costa and Sebastian find themselves involved in the conflict. Each will have to face the situation with their convictions and prejudices in order to get ahead.
También la lluvia is a film that speaks to us of the dignity, courage and determination of human beings, as well as the solidarity and empathy that can arise in a context of social chaos.
Icíar Bollaín
Icíar Bollaín is an important Spanish director and actress born in Madrid in 1967.
From a very young age she showed her talent for acting and performing arts.
At the age of 15 she was chosen by Víctor Erice to star in the film El Sur.
She participated in several films, in the television series Miguel Servet, la sangre y la ceniza and even in an opera.
Shortly thereafter she began studying at the School of Fine Arts at the Complutense University of Madrid, but soon abandoned the career to devote fully to cinema.
One of his hobbies is painting, particularly impressionist painting. She has painted many paintings and portraits.
In the early nineties, she founded, together with Gonzalo Tapia and Santiago García de Leániz, a production company called Productora La Iguana.
Her first works under this label were the short films Baja, corazón (1993) and Los amigos del muerto (1994).
In 1995 she released her first work as a feature film director. It was the romantic comedy Hola, ¿estás sola?
The fame would come with her second film, Flores de otro mundo, in 1999. This drama and romance film received two Goya Award nominations, as well as a special distinction at the Cannes Film Festival.
Te doy mis ojos (2003), a feature film about gender violence, won the Goya award for best film.
Her other productions include También la lluvia, Katmandú, un espejo en el cielo and El olivo.
Her most recent production, Maixabel (2021), deals with the victims of ETA terrorist violence in the Basque Country.
Throughout her filmography, some recurring themes stand out: history, violence against women, the struggle of the oppressed, the voice and silence of the victims.
In 2021, in the framework of the Gijón International Film Festival, Icíar Bollaín received the Woman of Cinema Award. She has also received other important awards and distinctions throughout her career, such as the State Award for Social Work and the Gold Medal for Merit in Fine Arts.
Did you enjoy this article? Test your knowledge!
Would you like to prepare for the Pearson Edexcel Spanish A-Level exam with us?
Spanish Express offers different Spanish A-Level programmes for adolescents and adults as part of our language tuition services.
We provide an online learning experience for students across the globe with our Spanish A-Level Private Tuition.
You can prepare for the Pearson Edexcel Spanish A level with us and take the exam for the Pearson Edexcel Level 3 Advanced GCE in Spanish in our London exam centre!
On the other side, our Spanish Express' Spanish film & literature Ultimate Workshops can be offered to individual students and Sixth Form Colleges, where a single or a series of bespoke workshops can be organised for an A-Level group.
With these workshops, you will be very well prepared and ready to take the Pearson Edexcel Paper 2: Written response to works and translation in Spanish.
Please contact us for a free consultation whether you need help with Spanish individual private tuition, the Spanish academic year programme, or simply general information about Spanish Film & Literature workshops or the Spanish Homestay Immersion Programmes in Spain.
Discover the most important works of Hispanic cinema with Spanish Express! 💃
What did you think of this story? 👀
More than 20 titles are available in our Spanish Film & Literature Workshops, including novels, collections of accounts and films from different countries. 🙌
The study of Spanish can be fun, enjoyable and at the same time productive. Come and live with us this exciting adventure! 😎
On the one hand, you will be in close contact with the great exponents of art in the Spanish language; on the other hand, you will bring your communication skills to a new level. 😊
Participate in our workshops! Learn Spanish and get to know the masterpieces of this wonderful language! 🤝
Alejandro Coita Sánchez
Spanish Express Blogger