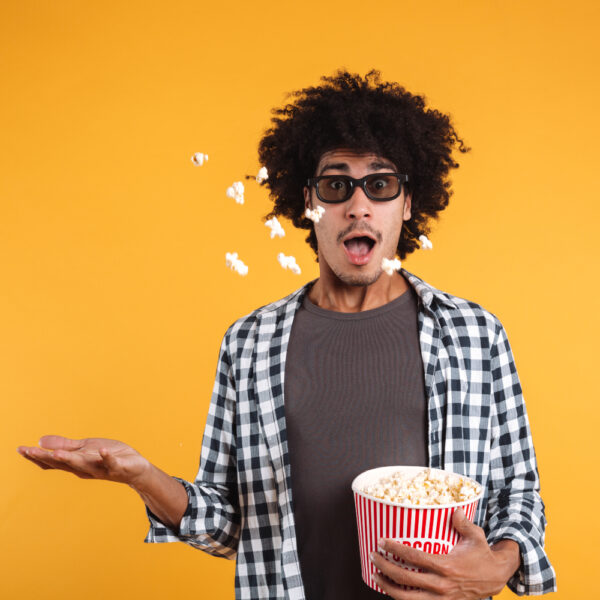 Spanish Film & Literature Workshops: Todo sobre mi madre (All about my mother)
Looking for a film to help you improve your Spanish? 🤔 
The choices of Spanish films are varied, and some may help you more than others, depending on your level.  
At Spanish Express, we know this very well, and that is why we have prepared a list of more than 20 cinematographic and literary works for you in our Spanish Film & Literature Workshops 🎬📙.  
What better way to learn the Spanish language than through its culture? 💃 
To give you a taste of the works we have available, today we present Todo sobre mi madre (All about my mother). A Spanish film that you can't leave behind on your path to learning Spanish.  
Do you want to know more about it? Join us in this review. 🙌 
Todo sobre mi madre (All about my mother) 
Premiered in 1999, Todo sobre mi madre (All about my mother) is a movie that, despite having debuted in that year, has a very close relationship to the present day.  
Controversial issues such as prostitution, sexually transmitted diseases and transsexuality are part of the narrative of this film, which helped to bring these issues into the focus of necessary conversations.  
The story begins with the death of Manuela's son, which prompts her to seek out his father, as she never informed him that they would have a child together.  
Manuela's relentless search takes her on a journey of unforgettable learning because along the way, she meets three women who will change her perspective on life.  
This complex but fascinating group of women is made up of a pregnant nun, an actress with an addiction involved in a toxic relationship and a transgender prostitute, each with a unique story to tell.  
The friendship between them becomes so strong that the problem of one now belongs to all, and the group becomes a chosen family.  
Their bonds respect individual decisions, but they do not hesitate to give advice when the situation warrants it. The sorority is unique among them, leaving aside the male influence in their lives, rescuing the feminine, and giving it all the prominence it deserves.   
"Last night, my mum showed me a photo of when I was young, half of it was missing. I didn't want to tell her, but my life is also missing that same piece". – All about my mother 
The film, directed by Pedro Almodóvar, was exceptionally well received at all the film festivals in which it participated. Its great success led it to win the Oscar for Best Foreign Film in 2000.  
Almodóvar brilliantly handled controversial and taboo subjects, allowing viewers to enjoy humorous but respectful dialogue.  
The director sought to convey such sensitive issues for the time in a comic way, but with all the seriousness they deserve.  
Without any kind of filter, Almodóvar showed the discrimination and abuse common to transgender minorities. In addition, he brought to the table the issue of sexually transmitted diseases, which by that year were still largely unspoken about.  
Todo sobre mi madre (All about my mother) is a strong drama that borders on the extreme and baroque, but with a genuineness that will tug at the heartstrings with the incredible story of its characters. 
Pedro Almodóvar 
Originally from Spain, Pedro Almodóvar Caballero is a producer, director and screenwriter with worldwide recognition thanks to his exceptional works.  
Among the awards he has received are multiple Goya Awards, an Ariel Award and two Oscars. In addition, the Cannes Film Festival named him president of the jury in 2017. 
"Being a film director in Spain is like being a bullfighter in Japan. The profession of director in Spain is seen as a bit like being a green dog, it's something that people often don't understand." – Pedro Almodóvar  
In 2009, Almodóvar was awarded an honorary degree by Oxford University, leaving his mark in history as one of the most internationally acclaimed Spanish directors.  
Among other honours and decorations is that of Knight of the Order of the French Legion of Honour and the Gold Medal for Merit in the Fine Arts. 
In Pedro Almodóvar's works, one can often find provocative and scandalous elements that seek to show the reality of problems in society.  
These social problems are approached with his usual irreverent humour, but in a brilliant way that avoids taking away from the seriousness of the issues raised. 
Almodóvar is dedicated to telling reality through his art, and he has succeeded in doing so, leaving us with impressive works along the way.  
Complete this activity and prove what you learned today 
Would you like to prepare for the Pearson Edexcel Spanish A-Level exam with us?
Spanish Express offers different Spanish A-Level programmes for adolescents and adults as part of our language tuition services.
We provide an online learning experience for students across the globe with our Spanish A-Level Private Tuition.
You can prepare for the Pearson Edexcel Spanish A level with us and take the exam for the Pearson Edexcel Level 3 Advanced GCE in Spanish in our London exam centre!
On the other side, our Spanish Express' Spanish film & literature Ultimate Workshops can be offered to individual students and Sixth Form Colleges, where a single or a series of bespoke workshops can be organised for an A-Level group.
With these workshops, you will be very well prepared and ready to take the Pearson Edexcel Paper 2: Written response to works and translation in Spanish.
Please contact us for a free consultation whether you need help with Spanish individual private tuition, the Spanish academic year programme, or simply general information about Spanish Film & Literature workshops or the Spanish Homestay Immersion Programmes in Spain.
Get to know the works of Almodóvar and many more directors with Spanish Express!  
The Spanish film world will be your faithful companion during your language learning, and Spanish Express will give you a hand to choose the best works for you. 🤝 
Join us for our Spanish Film & Literature Workshops 💃 and immerse yourself in the best that Spanish culture has to offer.  
Ready to give your learning a boost? Take the first step with Spanish Express! 🙌
Ginnette Di Damaso
Spanish Express Blogger