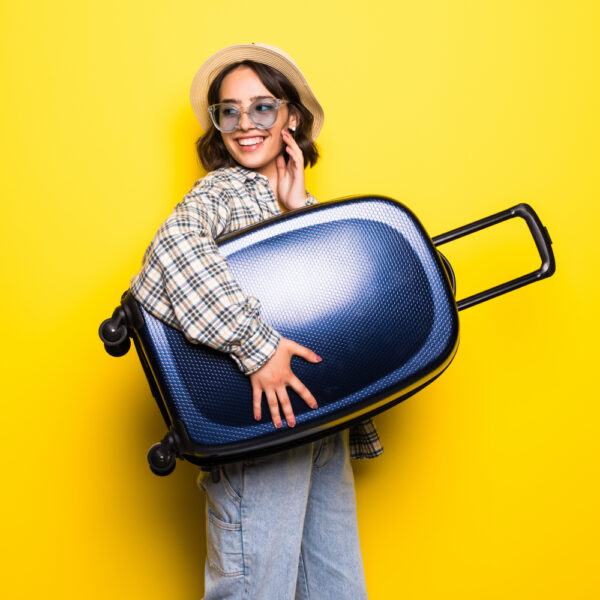 Diaries from Valencia, Spain: The quick tour of Sue
Do you want to learn Spanish in Valencia, Spain?  
With Spanish Express, you can! Thanks to our Spanish Homestay Immersion Programme (SHIP), you will have the opportunity to visit Spain while learning Spanish with our native or C2-level Spanish teachers.  
You will live and study Spanish in your teacher's home!  
To give you a deeper insight into this experience, we bring you the Valencia, Spain diaries, a compilation of our students' adventures.  
On this occasion, we invite you to discover Sue's trip, our last student to visit us in Valencia, welcomed by Pilar, host teacher in the town of Gilet.  
Get to know their experience as told by Pilar, and get ready to embark on this adventure with our SHIP.  
Valencia, Spain: Sue's quick tour 
Destination: Valencia, Spain 
Objective: to improve spoken Spanish. 
June 2022 
Three days before the start of our immersion course, Sue decided on a destination to study and learn about Spanish culture, choosing Valencia. 

Our student is an English teacher who loves learning Spanish, but she wanted to focus on speaking and listening during the course. 
Despite her age, Sue has an exceptional vitality for everything she sets out to do. She is a fantastic person. 
This is where her adventure begins
Sue arrived at Manises airport in Valencia on a Sunday in June with a simple backpack carrying the essentials: some clothes, a swimming costume, a notepad and her mobile phone. 
First day  
Her immersion programme began with lots of interaction and food at a welcome party where Spanish friends prepared her an exquisite Valencian paella.
Sue helped cook paella, meaning she had to listen carefully to the vocabulary used throughout preparing. 
(Photo)
She participated in the group conversations, practised her Spanish, and enjoyed the culinary experience. 
Day two
We started formal classes. 
Our goal was to practise sentences in the past tense to use in everyday life. In addition, we made a shopping list to work on the topic "a day at the supermarket". 
In the afternoon, we went shopping at a Spanish supermarket called Mercadona. There, Sue was able to be immersed in typical day-to-day shopping activity, but, on this occasion, entirely in Spanish. 
Day three 
We scheduled a visit to the historic centre of Valencia, Spain. 
The class started with the vocabulary we were going to use on that visit, as we had planned in the booklet "Live and study Spanish with your teacher in Valencia". 

Sue, enthusiastic about touring the old part of the city, wanted to get to know the places she was going to visit: the Lonja, the Central Market, the Cathedral, the Miguelete Tower, and the Plaza de la Virgen, among others. 
We ended the day at the beach of Alboraya. A beautiful place to enjoy the sea. 

Fourth day 
After our class at home, Sue asked me to repeat the beach experience, but this time we took food with us so we could spend more time there.  
This was not a problem for me I have a flexible schedule, and always try to accommodate my students as best I can. 
In the evening, at home and relaxed, we watched a Spanish language film of Sue's choice. 
Fifth day 
Like every day, before starting the Spanish class, we had breakfast on the villa's terrace. This time it was brilliant because Sue wanted to surprise me by making breakfast herself. It was delicious.  

After class, we visited Sagunto, a historic site with a castle and an impressive Roman theatre. 

We took the opportunity to walk around the "street market" that goes on every Thursday. During this visit, we talked about the various goods and items it offered (especially the vocabulary of clothes).
In the afternoon, after a siesta, we visited the City of Arts and Sciences. There, we took in the exuberant architecture of the place, its artificial lakes, the exhibition of sculptures on the lakes and the marvellous gardens of the Turia river.
It was such a special experience that Sue wanted to come back the following day. 

Day six
We made the most of her last day– how? Well, my student decided what to do about it. 
Like every day after breakfast and a two-hour Spanish class, Sue went for a swim in the pool and wanted to repeat the experience of visiting the City of Arts and Sciences.   
This time Sue chose to watch a 3D film in one of the city's iconic buildings, the "Hemisphere". 

And thus, Sue's immersive experience in Valencia came to a close.
Sue made the most of every moment, place, and Spanish class. Every detail of the sessions and every new word she learned filled her notebook day by day.  
But above all, she learned to communicate with other Spaniards to improve her speaking and listening skills. Being immersed every day with the locals everywhere she went was key to her learning journey.  
Sue arrived in Valencia, Spain, with difficulties communicating in Spanish. Her goal was always to become more fluent in the language, and… 
Congratulations Sue, GOAL ACHIEVED! 
Learn Spanish in Valencia, Spain, with Spanish Express 
You can also embark on this adventure with us, our SHIP not only takes you to Valencia, but we also have five other destinations available. 
Barcelona, Navarra, Mallorca, Málaga and Madrid are also on our itinerary!  
You choose the next stop on our SHIP. We'll make sure you get the best experience. 
What are you waiting for to learn Spanish in Spain? Contact us, and you will be the protagonist of the next diary.  
We are waiting for you!  
Pilar
Coordinator of Spanish Homestay Immersion Programme (SHIP)
Spanish Express Host Teacher