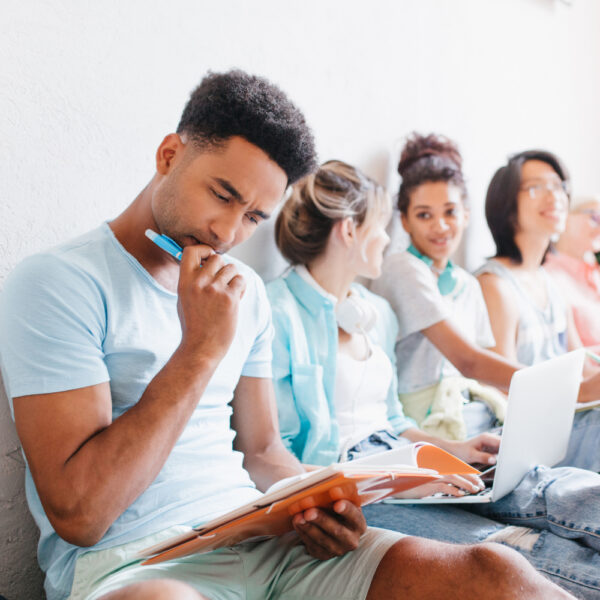 What are the DELE exams?
The Diploma of Spanish as a Foreign Language or, as it is known by its Spanish acronym, DELE, is an exam that officially proves which level of Spanish a person may have.
This test is administered by the Cervantes Institute, and once passed, it is valid indefinitely. 
The DELE is valid internationally and is the ideal tool to expand your work and academic reach to other countries. 
Learn more about this test here and get ready to take it! Spanish Express can give you a hand with its courses so that you have the best possible preparation. 
The DELE Test
To take the DELE test, you must be at least 16 years old. However, there are some specific tests for school children. These exams have all the CEFR levels, which means that you can take any level from the following list:
| | |
| --- | --- |
| CEFR Levels | Corresponding DELE exams |
| CEFR Level A1 | DELE A1 |
| CEFR Level A2 | DELE A2 |
| CEFR Level B1 | DELE B1 |
| CEFR Level B2 | DELE B2 |
| CEFR Level C1 | DELE C1 |
| CEFR Level C2 | DELE C2 |
Depending on the person's level of Spanish, he/she must prepare for the corresponding test. That is to say, if your level of Spanish is A2, you must take the DELE A2 Spanish exam.
This is because each test has specific requirements and structures that are adapted to the levels of those taking it.
The Structure of the DELE tests
Like almost all tests that validate language training, the DELE test evaluates four basic skills:
Reading comprehension

Listening comprehension

Written expression and interaction

Oral expression and interaction
Each section is evaluated separately, and each is allotted specific time limits to answer the required questions. 
Generally, the oral exam takes place one day before or one day after the test. 
The time limits vary according to the level of the test. However, the scores remain the same, with the highest grade being 100 points.
To qualify as a PASS, a minimum score of 30 must be obtained by approving two sections together. 
If the exam is not passed or the applicant does not attend the scheduled appointment to take the exam, the payments made will be lost. The entire process must be started from scratch at a new convocation.
Why take the exam?
Although this type of test is associated with academic fields, the truth is that it goes far beyond that.
If you live in Spain, some jobs that are directly related to the government, such as the Ministry of Health, require a DELE level of C1 or C2. 
Also, to acquire Spanish nationality, it is necessary to master a high level of the language.
The DELE A2 and CCSE are the two nationality exams that any foreigner must pass to be granted nationality. These are two different tests that will define whether or not you are eligible to get a Spanish passport, based on your level of Spanish and knowledge of Spain.
In addition, other business-related jobs take a greater liking to candidates who are certified in a language. That is because speaking Spanish at work brings many benefits to your growth professionally.
Ultimately, if your native language is not Spanish and you want to join a university in Spain or Latin America, the principal requirement is most likely to be the presentation of a DELE exam.
This test holds a high priority for both work and academic purposes, opening doors to new opportunities. If you are interested in taking the DELE exam, here we explain how to register and help you prepare for it. 
How to register? 
There are two ways to register for the DELE test.
Online,

through the Cervantes Institute website

, in the case of candidates in Spain (for all levels except school children).

At each exam center

, in the case of DELE exams held outside Spain.
The registration fee for the exams depends on the level of Spanish of each diploma and the country in which the registration is made. Each candidate should consult the price of the chosen diploma at the DELE examination center in the country where he/she wishes to take the exams.
Prepare for your DELE exam with Spanish Express!
Spanish Express brings you the best Spanish courses so you can be properly prepared to take your DELE exam. 
Join our DELE Exam Preparation and receive your lessons in any of these available formats:
Choose the one that best suits your needs and start your learning journey through this amazing language.
Our tutors will help you with specialized exercises to improve your reading comprehension and writing skills every day. 
In addition, we will practice your listening and speaking skills, helping you improve your ability to hold a conversation in the language with a native speaker.
And, of course, we will give you the best tips which you can apply to your test on the day of your presentation and be fully prepared to get an excellent score.
We will focus on developing the language skills you need for this exam.
Grow on a professional, academic, and personal level by having this certification on your CV.
Learn with us and get the best results in your test.
Ginnette Di Damaso
Blogger of Spanish Express